Last Updated on October 21, 2023 by Kelvin Nielsen
As a tenant in Alaska, you have a right to live in a habitable rental property (AS § 34.03.100).
So, when you require a repair, it wouldn't be surprising to ask yourself the question – how long does a landlord have to fix something in Alaska?
In this blog, we'll walk you through everything you need to know in this regard.
What is a landlord responsible for when it comes to repairs in Alaska?
AK Stat. § Sec. 34.03.100 is the code that primarily governs a landlord's obligation for providing a habitable living space. This legal requirement is collectively known as the "implied warranty of habitability'.
Your landlord has a legal responsibility to ensure your home has the following at all times.
Hot and cold running water.
A working HVAC system.
Working electrical, plumbing, and lighting systems.
Working sanitation facilities.
Adequate trash cans.
Safe stairs and railings.
Safe, usable, and clean fire exits
Working smoke detectors.
In addition to this, your landlord must also ensure the following.
The property is free of rats, mice, roaches, or other pests in the unit at least at the time of renting out the unit.
Any appliances they provide are working as they should.
The property is free of mold at least at the time of renting out the property.
How long does a landlord have to fix something in Alaska?
10 days! This is the time limit for repairs in the state of Alaska. That said, the issue must be truly serious.
It's the landlord's responsibility to make repairs to issues impacting a tenant's habitability. You can initiate the process by notifying the landlord of the problem in writing.
The following are the steps you must follow when requesting for repairs.
Identify the repair issue and determine whether it serious enough to want the landlord to fix it. Examples of such issues include a lack of essential utilities, structural issues, pest infestations, and potential hazards.
Notify the landlord of the issue in writing. Include the following information: date of the notice, a description of the issue, and your contact information. In addition, let the landlord know that you may cancel the lease agreement if they don't make the repair.
Follow up with the landlord to make sure they have received the notice and that they are working to resolve the issue.
The following is an example of a letter that a tenant can send to their landlord to request for repairs in Alaska.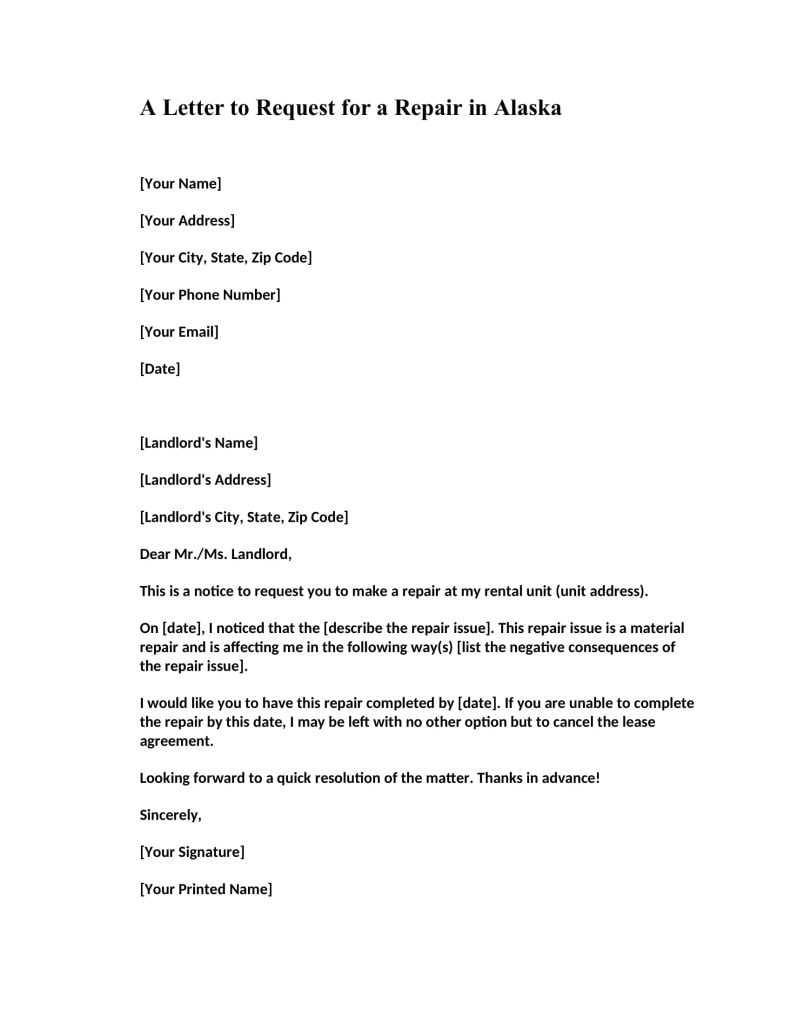 What rights do Alaska renters have if repairs aren't made?
Alaska's Universal Residential Landlord & Tenant Act (URLTA) gives renters a smorgasbord of rights. Among these is the right to have repairs done within 10 days. If the landlord fails to do so, you may be able to acquire the following rights.
Get an injunction for repairs or compensation.
Repair the issue yourself and then deduct the costs from future rent payments.
Conclusion
So, how long does a landlord have to fix something in Alaska? Exactly 10 days! You have a right to repairs within 10 days of proper notice for most issues. If the landlord isn't able to do so, you may be able to exercise a few legal options including canceling the lease without penalty or suing the landlord for damages.
Just make sure to send to notify the landlord of the issue properly. Notify the landlord as soon as you notice the issue and provide a proper description of the issue, among other things.
Disclosure: The content herein isn't a substitute for advice from a professional attorney. It's only meant to serve educational purposes. If you have a specific question, kindly seek expert attorney services.
Sources: https://law.justia.com/codes/alaska/2020/title-34/chapter-03/article-3/section-34-03-110/, https://www.akleg.gov/basis/statutes.asp#34.03.100, https://www.law.alaska.gov/department/civil/consumer/3403010.html,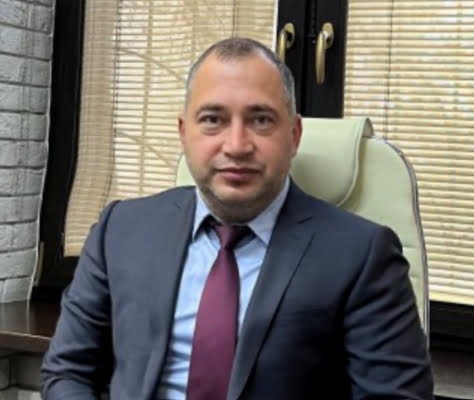 Hi, I'm Kelvin Nielsen, an experienced landlord and accomplished real estate lawyer. My focus is on answering your questions about renting in the hopes of making your life as a renter or a landlord a bit easier.